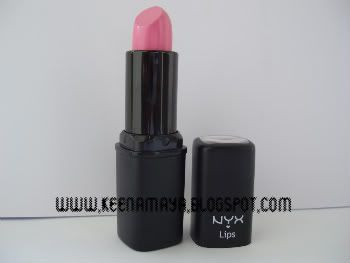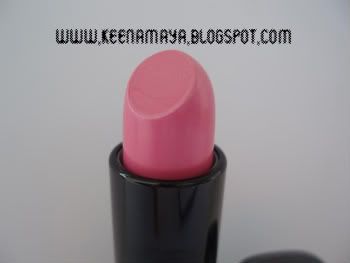 My take: I have tried this NYX Lips lipstick in Sierra (a very nice peachy-coral shade)..click here for pic
Sierra
. I have a very sensitive lips..easily chapped and swollen..after using Sierra (as always, having doubt on trying new stuff especially on my lips), luckily nothing happened. In fact it didn't budge at all..stay smooth n not drying..this lipstick gives not-so-matte finish..to me it is more a full coverage lip stain that is not drying..matte lipstick always a no-no for me. But not this time..but the one with shimmers like
Baby
(click it for swatch) is prone to dry your lips as most of matte lipstick do. So i put some gloss on top to keep it moist (MAC Cultured lipgloss is a very good dupe of NYX Baby in gloss form). Mrs.Lynne from
Makeupfix.net
has done a very good review on NYX Lips range.
So it is for you who like to wear a full coverage lipstick with matte finish but moist lipstick..but not for those who likes to wear creamy and high-emmolient content lipstick..NYX Round Lipstick sounds good for you...review to come..:)

Narcissus is a very sweet and nudish kind of bubblegum-pink.
MY PRICE: RM19.00 ALL INCLUSIVE (via pos daftar)
SOLD!!!