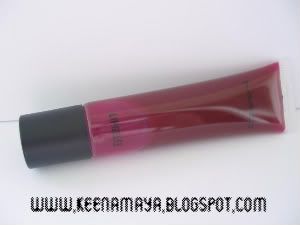 Far right in pic is Sugar Shock
Swatch pic credit to Temptalia.com
A soft jelly-textured glosser for the lips. Fab to apply. Squeezes on. Distributes evenly and easily via its special slanted tip. Moisturizes and conditions the lips - saps them up! Makes them look wet, shiny, super-lush! Comes in a wide range of sheer, soft tints!

MAC described Sugar Shock as Sheer red berry (Cream)

Christine from temptalia.com described it as:
"This is similar to She-Boom!, but then it's ultra sheer compared to the other three lipgelees. It's a sheer medium pink with some shimmer".
MY PRICE: RM39.00 ALL INCLUSIVE
IN STOCK